Once a path has been created or you've found a course that fits an individual/team objective, how do we put this in the hands of a user? We use Goals! Think of Goals as Cybrary's form of an assignment. This is an excellent way to promote accountability and watch your team upskill.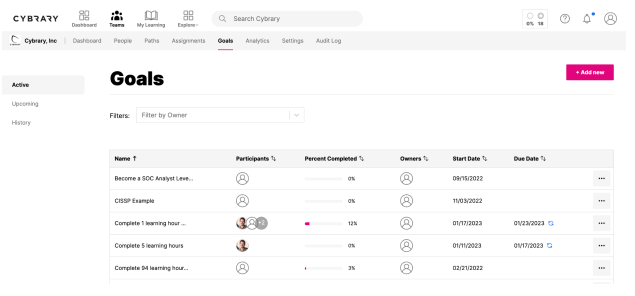 On an ongoing basis, you can reference the Goals page to monitor the teams progress. Additionally, our Dashboard is another source where you can better understand who has logged in, what they are learning, and who your top learners are.
If you ever have any questions or are stuck at any point of your journey with Cybrary, our Help Center and chat feature is available at any point. By selecting the "Help" button at the bottom right of the screen, you can use key words to help you find what you're looking for or send a message to our support team (support@cybrary.it)
Above all else, you are not going through this journey alone. Your dedicated Customer Success Manager is here with you every step of the way - Reach out to them if you have any questions regarding your team's learning.